Un'indagine del più grande detective di tutti i tempi alle prese con un inedito Jack lo squartatore.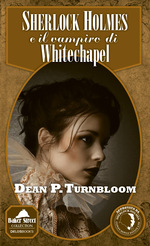 Titolo:
Sherlock Holmes e il vampiro di Whitechape
Titolo originale:
Sherlock Holmes and The Whitechapel Vampire
Autore:
Turnbloom Dean P
Casa Editrice:

Delos Books
Pagine:

270
Prezzo:
16,50
Data di Pubblicazione: 20 Giugno 2013
Il più famoso Consulting Detective dell'Inghilterra vittoriana è sulle tracce del peggior serial killer che Londra ricordi: Jack lo Squartatore. Ma in Sherlock Holmes e il vampiro di Whitechapel, Jack è un vampiro e Holmes si rifiuta di crederlo rischiando la disfatta più totale, mentre i due si sfidano a duello in questo romanzo incantevole e originale. Gli appassionati di Sherlock Holmes, gli affezionati lettori di Jack lo Squartatore e gli amanti dei vampiri alla Bram Stoker, troveranno sicuramente qualcosa da amare in questo romanzo storicamente attento e ricercato, che mescola con coraggio e abilità generi differenti che in questo libro si sposano alla perfezione.
«L'essenza letteraria di Alden Bell è permeata dallo stile di William Faulkner e dall'horror di George Romero. Dalla prima pagina la sua scrittura semplicemente incanta.» Fiction Nation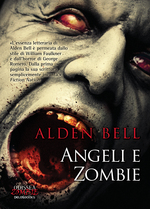 Titolo:
Angeli e Zombie
Titolo originale:
The Reapers Are the Angels
Autore:
Alden Bell
Casa Editrice:

Delos Books
Pagine:

192
Prezzo:
14,90
Data di Pubblicazione: 20 Giugno 2013
Per venticinque anni, la civiltà è sopravvissuta in territori isolati, al riparo dalla piaga dei morti viventi. In questo paesaggio fatiscente si aggira Temple, una ragazza in fuga, che si difende dalla morte e da segreti inconfessabili che porta nel cuore. Temple non ricorda come fosse la vita prima dell'avvento degli zombie; ma rammenta di un vecchio che la prese con sé; e di un fratello minore che accudiva, prima della tragedia che la spinse a girovagare senza una meta fissa al di là della frontiera umana. Quando incontra il giovane e un po' ritardato Maury, cerca di fare la cosa giusta: riportarlo dalla sua famiglia in Texas; allora, forse, potrà abbracciare la redenzione per alcune delle terribili cose che appartengono al suo passato. Perché Temple ha dovuto lottare per sopravvivere, compiendo atti di cui non va fiera e, lungo la strada, si è fatta dei nemici. Come quell'uomo che la segue nell'ombra, in attesa di rivelarsi, un'ultima volta.
Reapers
1.
The Reapers Are the Angels, 2010 (Angeli e zombie, 2013)

Il libro conclusivo della serie bestseller dedicata a Sookie Stackhouse dalla quale è stata tratta la serie tv True Blood
Titolo:
Morti per sempre
Titolo originale:
Dead ever after
Autore:
Charlaine Harris
Casa Editrice:

Delos Books
Pagine:

360
Prezzo:
16,90
Data di Pubblicazione: 25 Giugno 2013
Nella città di Bon Temps ci sono segreti che minacciano le persone più vicine a Sookie, e che potrebbero annientare il suo cuore… La sua relazione con Eric Northman non è più così ben definita. Lui e i suoi vampiri si stanno tenendo a distanza… e mantengono un gelido silenzio. E quando ne scopre il motivo, Sookie ne è devastata. Poi uno sconvolgente omicidio scuote Bon Temps, e Sookie viene arrestata come colpevole. Le prove contro di lei sono però deboli, e riesce a uscire su cauzione. Indagando sull'omicidio, scoprirà che quella che sembra la verità a Bon Temps è soltanto una comoda menzogna. Che quanto passa per giustizia è più che altro sangue versato. E che ciò che passa per amore non è mai sufficiente…
Ciclo di Sookie Stackhouse
1. Dead Until Dark, 2001 (Finchè non cala il buio, 2007/9)
2. Living Dead in Dallas, 2002 (Morti viventi/Morti viventi a Dallas, 2008/9)
3. Club Dead, 2003 (Il club dei morti, 2008/10)
4. Dead to the World, 2004 (Morto per il mondo, 2009/10)
5. Dead as a Doornail, 2005 (Morto stecchito, 2009/2011)
6. Definitely Dead, 2006 (Decisamente morto, 2009/2011)
7. All Together Dead, 2007 (Morti tutti insieme, 2010/2012)
8. From Dead to Worse, 2008 (Di morto in peggio, 2010/2012)
9. Dead and Gone, 2009 (Morto e spacciato, 2010/2013)
+ A Touch of Dead, raccolta di racconti sul Sookie-verse, 2009 (Un tocco di morte, 2010)
10. Dead in the Family, 2010 (Morto in famiglia, 2011)
11. Dead Reckoning, 2011 (Resa dei conti mortale, 2011)
12. Deadlocked, 2012 (A un punto morto, 2012)
13. Dead Ever After, 2013 (Morti per sempre, 2013)
Dopo il successo di Un cadavere in giardino continua la serie delle indagini di Aurora Teagarden eroina nata dalla fantasia di Charlaine Harris.
Titolo originale:
A Fool And His Honey
Casa Editrice:

Delos Books
Pagine: 250
Data di Pubblicazione: 20 Giugno 2013
Roe e suo marito Martin, ricevono una sorpresa quando Regina, la nipote di Martin, si presenta a casa loro con un bambino, senza che nessuno sapesse che lei era incinta. Parecchie ore più tardi, di ritorno da una cena, Roe e Martin scoprono che il marito di Regina, Craig, è stato assassinato nel loro cortile e che Regina è scomparsa dopo aver nascosto il piccolo Hayden sotto il letto. Roe, che non può avere figli, si ritrova a doversi prendere cura del piccolo mentre lei e Martin cercano di ritrovare Regina, dopo aver scoperto una grossa somma di denaro nascosta nella borsa dei pannolini del bambino. Insieme a loro c'é Rory Brown, un amico di Craig e di Regina che mostra un interesse sospetto nei confronti del bambino. La storia ha un ritmo incalzante, ed è popolata di personaggi tragicamente frustrati. Roe, che capisce fino a che punto alcune persone potrebbero spingersi pur di avere un bambino, è inorridita da ciò che scopre.Fino a che punto la gente è disposta a spingersi per ottenere quello che vuole?
1. Real Murders
(Real Nurders. Il club dei delitti irrisolti)
2. A Bone to Pick
(Il mistero del teschio)
3. Three Bedrooms, One Corpse
(Tre camere e un corpo)
4. The Julius House
(Casa Julius, 2012)
5. Dead Over Heels
(Un cadavere in giardino, 2013)
6.
A Fool And His Honey (Gioco di inganni, 2013)